Join us for the RunnersWorld Tulsa Urban Adventure Race!
The RunnersWorld Tulsa Urban Adventure Race promises to be an unforgettable running experience! The Urban Adventure is an exciting running tour of a vast amount of Tulsa's iconic sights. There is a distance for most everyone beginning with the marathon and up to 100 miles. Do YOU have what it takes to complete it?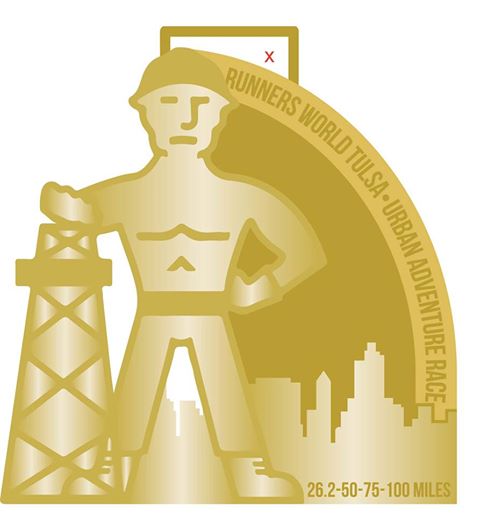 The start is Saturday, September 25, 2021 at 7:00 a.m. The start/finish is at RunnersWorld Tulsa., 3920 S. Peoria, Tulsa, OK.
CUTOFF: The cutoff time for finishing all distances of the race is 34 hours (5:00 PM. Sunday).
WHAT'S WITH THE NAME? First of all, it's Tulsa! It's an exposition because it will expose you to parts of the city that you may or may not have run before and will show you what a great city this is to run in on your Urban Adventure
COURSE: It starts and finishes at RunnersWorld Tulsa, 3920 S. Peoria, Tulsa OK. The course is 25 mile loop with a 1.2 mile out and back for the 26.2 mile distance. Run one lap, do a marathon. Two laps for a 50, three for a 75 and four to complete a 100!!!
You will be given a map and a baggie with turn by turn directions to carry with you during the event and you must find your way around. The course is not marked and the map and turn by turn directions will be the only thing to show you the way. The terrain is generally flat to gently rolling. There are sidewalks to run on almost the whole race. I've tried to minimize running on streets with traffic as much as possible, but NOTE that much of the race is run next to or on streets where there may be heavy vehicular and/or pedestrian traffic, which is part of the "urban adventure" aspect of the race, so prepare to take extra care in traffic when you're exhausted near the end.
Use the free IYR App to view the course or...

MapMyRun Map Here: https://www.mapmyrun.com/routes/fullscreen/2704404487/
AID STATIONS: Your aid stations will be Quik Trips that are located approximately every 2-3 miles on the course. We will give you a Quik Trip card to use to purchase food and drink when you pick up your packet for the race. Quik Trip is not a sponsor nor are they involved in putting on this event and therefore you will act just like any other "paying" customer. You may NOT take anything for free. There will be only one other aid stations along the course at RunnersWorld Tulsa, providing water and sports drink, some simple food items (fruit, chips/pretzels, cookies) and maybe some more substantial food items. They might not provide all of your nutritional needs during the race. You should still carry some of your own food, some extra cash, have it crewed for you, or buy it in stores, delis or restaurants you pass along the way. You will also pass by some park drinking fountains if you need extra water. This is part of the urban adventure and fun of an event like this. Keep in mind that many stores may close at night. The aid stations will also not have any extra amenities like cots or anyplace to nap at night except at RunnersWorld Tulsa. Aid station staff at RunnersWorld will check you in, make sure you're ok, help you with directions if needed and give you encouragement and support. You will still have to be somewhat self-reliant. Please only enter this race if you are prepared for that.
You may enter to run 26.2, 50, 75 or 100 miles solo or 100-mile 4 person relay: All distances follow the same rules as the 100 mile participants. Runners entered in the 100 Mile run may stop at any loop if they don't feel they are able to finish and still get a finishers medal for doing that distance. Pacers are allowed after your first lap. You may crew your runners at any time.
Additional Distances
This event also has the following non ultra distances
Results
Latest articles from UltraRunning Magazine